Bou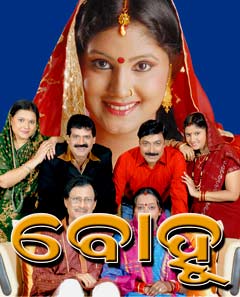 Bohu, as the name suggests is about two brides-Anuradha and Purnima. They come to Industrialist Krushnaprasad's family. Anuradha marries elder son Biswajit. And Purnima is wife of younger son Abhijit. That way, Anuradha and Purnima represent the two opposite strands of human life. Anuradha is ambitious, aggressive, manipulative and revengeful. Where as Purnima is loving, caring and all forgiving. If the former can kill to settle her score, the later can sacrifice herself to unite all. So with their arrival unfolds a high voltage drama in the 'kutumb' of Krushnaprasad. Life becomes a tempestuous journey for all its members. If a wife can break a home, she can reunite a family as well—perhaps these brides want to highlight this belief.
'Janani, Bhagini, Jaaya, Janame Janame Bandhu' –This is how a traditional Indian bride is defined. And Anuradha and Purnima portray these various roles in their unique way.
Bohu, In Taranga, Every Monday to Friday, At-8 P.M.
Devi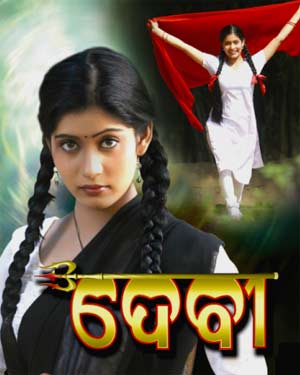 Devi is a fusion of divine and human, mundane and metaphysical. The mega serial has characters, which are both supernatural and natural.
Devi as a simple village girl and later as the daughter-in-law of Choudhury family, suffers like any other vulnerable human being. But Taara who is an incarnation of goddess Tarini is all powerful and protects all those who are innocent and devoted to her.
The human heart is a hub of conflicting forces—right and wrong, good and bad, bright and dark and above all, sublime and sensual.
But at the end of a struggle, victory always takes the side of those, who believe in fair play and right principle. But the way nectar emerges only after a lot of churning, in a similar way, Devi too will suffer a lot, before things settle in her favor.
Divine intervention takes place. But before that we all have to fight our own battle. Perhaps Devi wants to give this message to all, in her own way.
Devi, In Taranga, Every Monday to Friday, at 7-30 p.m
Jibana Jamunare Juara Uthere
Jeebana Jamunare Juara Uthere, as the name suggests, the mega serial is about the river of life and its ebb and flow. On the surface, it is the story of struggle of Jamuna, an upright lady. But down the stream, Jamuna's life struggle gets symbolic. It mirrors the eternal struggle between wealthy and poor, mighty and meek, clever and conscientious, And above all, malevolent and benevolent forces. And while waging this war, somewhere Jamuna is highlighting the oft-quoted Biblical prediction. That, one day the high and mighty will fall and the meek shall emerge and inherit the world.
Jeebana Jamunare Juara Uthere, In Taranga, Every Monday to Friday, At 8-30 P.M.
Topae Sindura
Topae Sindoora, as the title suggests is about that vermillion mark which in a way symbolizes Indian womanhood. It epitomizes the sanctity of marriage and the dignity of a housewife. And to get that red mark of marital acknowledgement, Jyoti undergoes several vicissitudes in life.
The vermilion mark becomes the crimson crack that succeeds a long night. And Jyoti has to cross a dark continent of sorrow before 'topae sindoora' decorates her forehead and dazzles her fortune.
Topae Sindoora, In Taranga, Every Monday to Friday, At 7-00 P.M.